Installing the auction does not require knowledge of programming or systems administration. Script can be installed in any hosting with support PHP and MySQL. In this article  illustrated all steps of the installation process and described the common troubles.
The script can be installed in the root directory of the site (for example, http://example.com/) or in a separate directory (for example, http://example.com/auction/).
Unzip and copy all the files on your site via ftp.
Set the permissions 777 for directories ./config, ./img/big, ./img/pv, ./img/tmp and ./ log
Open the directory where you copied the files (for example, http://example.com/auction/)  in your browser (FireFox, Opera, Internet Explorer, etc.)
Select the installation language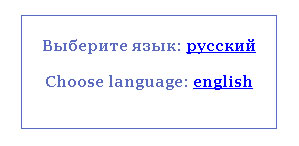 Read and accept the license agreement.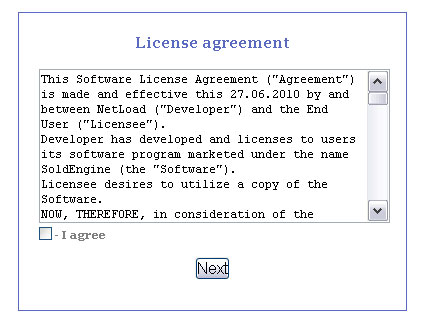 Configure the connection to the database (MySQL).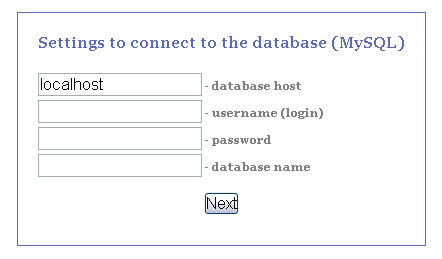 All database tables have prefix au_. The installation process will be stopped, if is found tables with the same name in the specified database. In this case, you need to specify another database.
After importing the database, you must specify the administrator username, password and e-mail.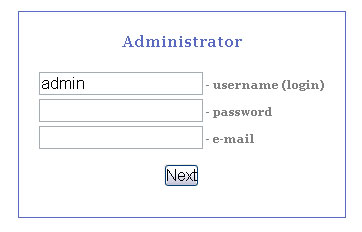 Installation is completed, you can go to configure an auction.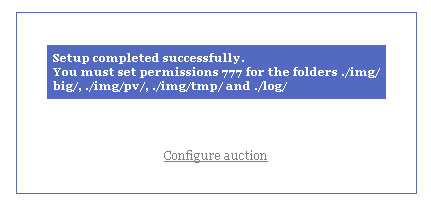 Enter the auction title and e-mail, whose name (from) will be sent a notification emails.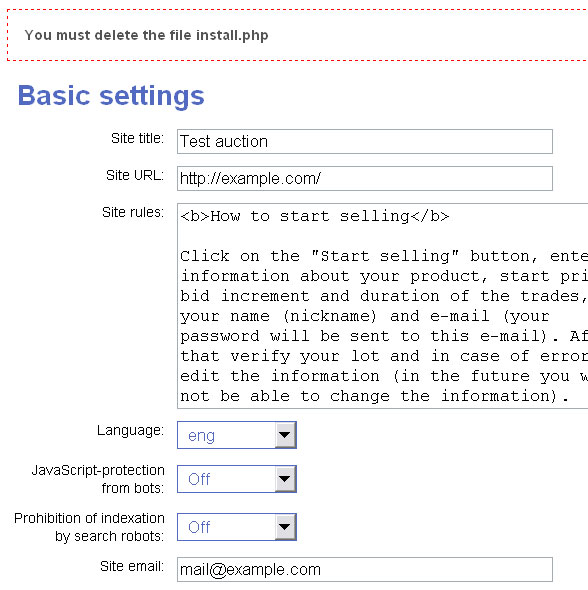 Important: this e-mail must actually exist on your website. For example, if you set the auction site http://example.com, then you have to set e-mail mail@example.com (or root@ example.com, depends on your imagination). Else almost surely notification emails will get into spam and will not reach the recipients.
Script has a hidden JavaScript-spam protection. When this protection is turned on (by default it is turned off) ordinary visitors, in which browsers allowed execution of JavaScript, did not notice, but spam bots will not be able to write a message in the discussion of the lot. This mechanism does not provide 100% protection, but protects against accidental spammers.
You can block search bots to index pages of your auction. In this case, in the code of each page will add the meta-tag <meta content="noindex">. By default, this option is turned off.
Specify payment systems through which you will receive payment from sellers or buyers. More information about setting up payment systems will be wrote in the following article
Create a structure of categories. Categories can have sub-categories (1 level)

You can create additional fields required for your auction.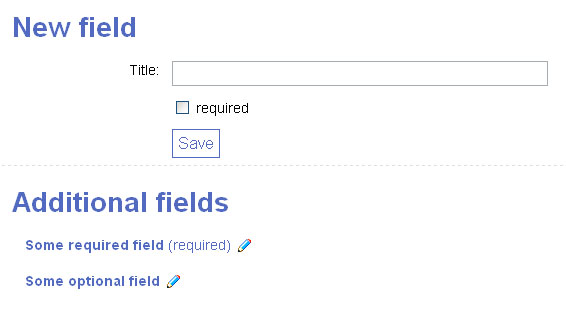 Congratulations, installation and configuration of the auction is completed.
Friendly URL implemented by using Apache mod_rewrite. If your hosting use Nginx instead of Apache, I'll write similar rules for Nginx.
In case of any errors – write here or e-mail admin@netload.biz
Update 05/06/2012
New settings in the version 1.4: